(STOP losing sales with all the extra bells and whistles that make customers run for the hills)
---
Core Features
Great features, great product!
---
Instant Price Calculation
We offer dynamic pricing calculator with rule based options to get instant estimation. These real time quotes are based on signage specific perimeters, area and much more.
Free Support
Our goal is to support you to achieve your goals, with millions of creativeness. We are a team of professionals and help you inspired across all our services.
Free Upgrades
Based on proactive feedback from clients we are doing consistent upgrades to improve features and services of our solution.
Flexibility To Customize
We have fully in-house developed solution. So our team is ready to make customization for certain requirements and integrations.
User Friendly
Customers get their quote, pay and upload artwork seamlessly as we removed all the roadblocks to customers placing an order.
Plug n play
With fully automated installation process, just get onboard and ready to Go Live! No need of software programmers.
---
Choose
Instant Sign Store
User Friendly
Easy for customers to complete new print orders online day or night.
Cost Effective
Cut costs of paying sales reps a huge salary and commission.
Automated Process
Automate customer retention and acquisition.
---
Simplify Ordering
---
If you want to simplify ordering & reordering to retain existing B2C & B2B clients, quickly expand your product range and increase revenue, or even if you just want to reduce overheads & order processing time, then this is the most important letter you'll read all year!
Here's why...
Because in today's print world, a way to take orders online that WORKS or NOT can mean the difference between scaling a successful business or shutting down shop!
Simple
Scalable
Easy to Use
Sales
---
Our Promise
Here's why we can make you this promise...
---
My name is Gary Wells and I know how to scale commercial print services.
I ran my own successful commercial print company for over 8 years, growing it from a start-up to a multi-million dollar turnover enterprise in the first 2 years of operation.
How many large format and sign printers utilise advanced ecommerce functions like online designers or PDF templates that fail to generate revenue, after spending thousands on a shiny MIS or W2P software?
That's the problem with these over-hyped platforms designed to do everything but SELL.
The reality is many customers either need their artwork designed or already have it.
Especially when we are talking about signs and banners. Making them navigate feature-heavy platforms full of options they don't need kills the sale.
We have a quick, affordable and scalable solution.
Let Me Sweeten The Pot For You Even More With This Exclusive Opportunity If You Act Now...
We back every one of our sign stores with our marketing company, driving targeted customers directly to your website from Facebook, Google and Instagram. What does that mean?
1 x Instant Sign Store —> 1 x Scalable Marketing Package = $$$$ In Your Pocket
When you purchase our Instant Sign Store, you have the opportunity to also purchase our award winning marketing services, and we will fill your pipeline with more business than your lead sales rep (for much less of a cost!)
Here's How To Order Right Now
So go ahead and click the order link now and you'll be on your way to enjoying all the benefits we've talked about here and more! Sound good?
Choose your hosting option below, and you can be up and running in minutes...
To your success,
Gary Wells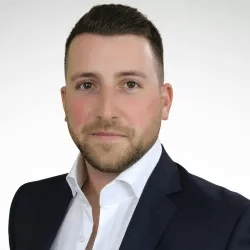 ---
THE WEB PLATFORM
I WISH I HAD FOR MY BUSINESS
Get Online Sales Quickly And Hassle Free… Nothing More, Nothing Less!
---
The numbers don't lie!
---
Most Web 2 Print or MIS solutions only bring in 1 or 2 orders a month.
If you make it easy for your customers to order online, your ability to scale revenue goes through the roof!
Out of the box we provide a hosted or host yourself ecommerce platform….. built for sign printers.
Comes with all the usual products (see our demo), plus accurate quote calculators that take into account the intricate necessities but remain easy for a customer to use.
With a webstore that works, you can meet your monthly sales targets WITHOUT expensive sales agents!
Increase your profits, and free up cash flow with extra money left over
Bragging rights for automatically making sales in your sleep
Upload Your Logo
Brand Your Colours
Set Your Own Pricing
---
FEATURE RICH?
NOPE!
How About Simple, Effective & Delivers $$$ Instead?.
---
The Bottom Line With Instant Sign Store
---
You get a user friendly webstore where a customer can quote online any size, shape or quantity, place an order, upload their artwork and pay via Stripe with one affordable out of the box platform…
No need for bells and whistles that customers simply do not use…
In most cases these extras are distracting and confuse the ordering process.
If you're lucky enough not to loose the customer completely, do you really want to spend the time and manpower walking them through the order process on the phone?
With Instant Sign Store you get a web store where customers are able to complete their orders quick & easy, allowing you to rake in revenue while reducing overheads & order processing time.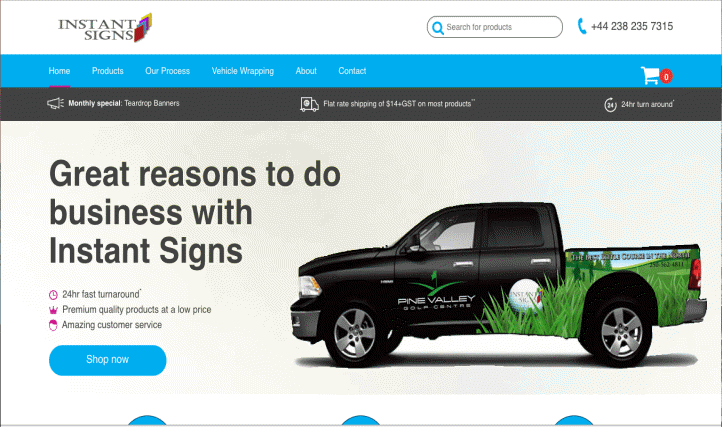 MOBILE FRIENDLY STOREFRONT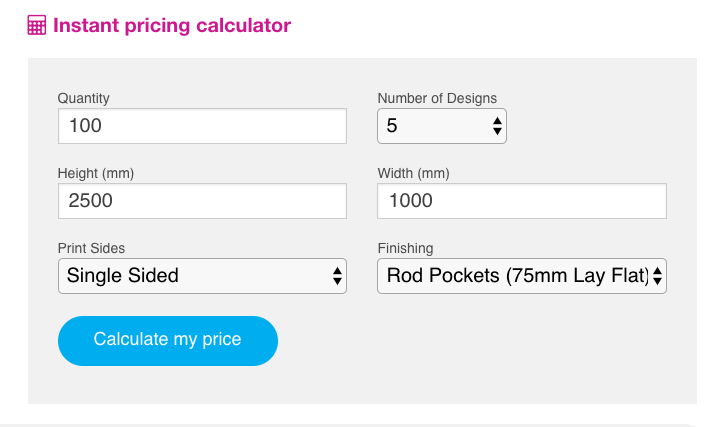 INSTANT ONLINE QUOTE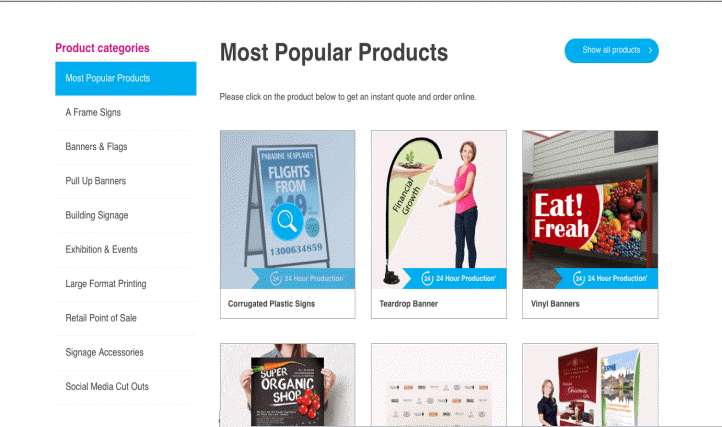 GREAT PRODUCT RANGE FOR SIGNS